Reviews
PDFescape- Free PDF Editor and Filler Online
Due to their capacity to maintain document integrity, PDF files are unquestionably the preferred format for sharing and storing documents. Generating files may not pose a serious challenge, however refining and finalizing them can be quite daunting. Equipping oneself with appropriate utilities can notably simplify the task at hand. Adobe Acrobat Pro software guarantees an effortless experience whether you're creating or altering existing files or electronically signing forms. PDFescape is an effortless online tool for editing and completing PDF documents without requiring the installation of any software it serves as a free PDF editor and filler.
PDFescape is a remarkable resource suitable for individuals who frequently handle PDF files. It grants you the privilege to modify, complete and endorse documents digitally at no cost, by appending text, images or form fields as per your choice. In addition to this, it provides basic features such as emphasizing, underlining and crossing out texts besides allowing you to sketch shapes and lines. You can heighten security standards by password protecting your PDF document furthermore, it empowers you to affix watermarks too.
How to Use PDFescape
Using PDFescape is easy and straightforward. It provides a user-friendly interface to modify PDF files. To get started, navigate to the website and select the "Edit Your PDF Now" option. Once you've uploaded your PDF file, you can use the multiple tools offered on the site to perform any required alterations or modifications. This service streamlines and simplifies the process of making quick edits to a PDF document.
To add text to your PDF file, click on the "Text" button in the toolbar and then click on the area where you want to add text. You can then type in your text and customize its font, size, and color. To add an image to your PDF file, click on the "Image" button in the toolbar and then upload your image. You can then resize and position the image as needed. To add form fields to your PDF file, click on the "Form Field" button in the toolbar and then select the type of form field you want to add. You can add text fields, checkboxes, radio buttons, and more. Once you have added your form fields, you can customize their properties, such as their size and position.
Advantages of Using PDFescape
Free PDF Editor and Filler Online PDFescape is an incredibly useful tool for anyone who works with PDFs. It's a free online PDF editor and filler that allows you to easily add, edit, and fill out PDF forms. With this you can streamline your workflow and save time by eliminating the need for printing, scanning, and faxing. Let's dive in and explore some of the key benefits of PDFescape.
One of the biggest advantages of this software is that it's completely free to use. You don't need to download any software or sign up for any subscriptions. All you need is an internet connection and a web browser. Its interface is user-friendly, with intuitive tools and buttons that make editing and filling out PDF forms a breeze.
PDFescape enables you to modify your PDF documents directly without requiring any file format conversion. You have the freedom to insert textual content, visuals and hyperlinks to the PDFs as well as alter font typeface, size and color of pre-existing text. Additionally, you can rotate any page or reshape its dimensions while removing pages that are unnecessary thus allowing for easy insertion of fresh pages whenever necessary. This software provides a straightforward way of efficiently implementing varied modifications on your documents.
PDF Escape's form-filling function is a game-changer for individuals who are required to complete copious amounts of paperwork. Rather than resorting to printing out documents, manually filling them out by hand, and then scanning the filled in sheets before submitting them, this can now be done digitally on the internet. This includes the ability to enter text into fields, tick checkboxes or radio buttons and even add items using dropdown menus. Furthermore, there's no obligation for an additional measure since you may authenticate the document within the editor itself eliminating traditional signatures entirely.
PDFsceape is an excellent solution to safeguard your PDFs. It provides the option of setting password protection for confidential files and adding watermarks, which can prevent unauthorized replication or distribution. Altogether, it offers a simple and effective approach for individuals to secure their data and streamline their document sharing procedures.
Export and Share Your PDFs
PDFescape is a great option for promptly modifying, completing and saving documents. It has the ability to accommodate a variety of formats such as JPG, PNG and PDF which permits hassle-free exporting to your PC or sharing via email or cloud storage. Using this tool makes managing PDF files extremely easy.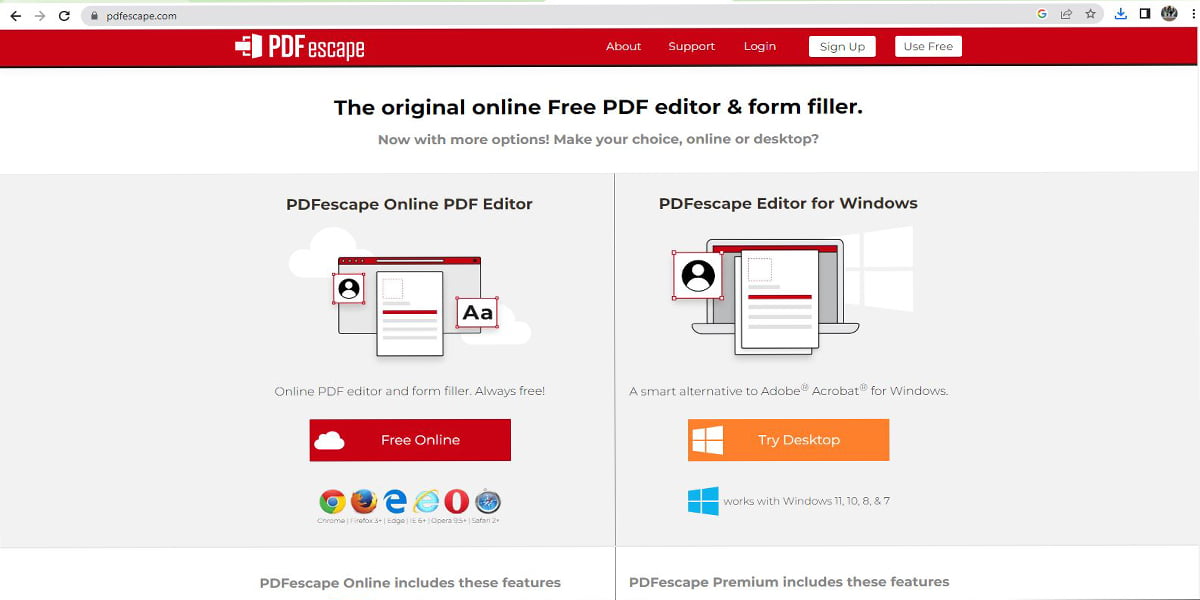 Login to PDFescape
To use PDFescape, you need to create an account. Go to the PDFescape website and click on the "Login" button in the top right corner of the screen. You will be prompted to enter your email address and password. If you don't have an account yet, click on the "Sign Up" button and follow the instructions. Once you have logged in, you will be taken to the PDFescape dashboard. Here, you can upload your PDF files and start editing them.
Limitations of Using PDFescape
PDFescape provides a great solution for carrying out basic actions like editing or completing forms on a PDF. Yet, the free version of this tool has some limitations that must be mentioned. This version only allows you to add text and images. But more complex tasks such as creating forms or signing documents are not available. Also, it restricts file size up to 10 MB which may pose difficulties if your files include high-volume multimedia components or imagery.
It is a useful online application for modifying documents, but its limit on file size could pose difficulties while handling extensive files. This may result in users having to alter PDF dimensions before utilizing this software, which can be problematic if they frequently deal with larger than normal document sizes. Fortunately, there are alternative options accessible for individuals seeking more comprehensive solutions.
If you have basic PDF editing requirements such as adding or eliminating text and pages, organizing the content layout, filling forms, or splitting files into smaller sizes, It can be a viable option. Nevertheless, it does not offer assistance for more complicated tasks like creating tables, inserting links or modifying images. In case you anticipate performing any of these sophisticated edits on your documents, it is recommended to consider other software programs instead.
It is a free online platform, and as such, it has certain security limitations. The security measures employed by PDFescape may not be enough to protect sensitive or confidential information. Care must be taken when uploading and editing documents containing sensitive data.
It is an online platform, which means it requires internet connectivity to function. This can be a limitation if you don't have a stable internet connection or if you're in a location where internet access is limited.
It may not be fully compatible with some PDF files. The software may not be able to process certain features or functions in some PDF documents. This may limit the user's ability to edit documents completely.
It does not have a mobile application, which can be a limitation for users who require editing on-the-go. This lack of mobility also limits the software's accessibility, especially for users who rely on mobile devices.
Conclusion
With PDFescape, you can easily edit and fill out PDF files online without installing any software. As a free tool, it provides various features that let you add text, images, and form fields to your PDFs. Although there are certain restrictions with using this application, it is still valuable for carrying out simple editing tasks and an ideal option for busy individuals who require on-the-go access to their PDF files.