WeVideo is a big free online video editor allowing users to create professional-looking videos quickly and easily. It offers a wide range of editing features, such as a music library, image library, and sound effects, to help users make fun and engaging videos rapidly. In addition to it, several other alternative online video editors are available that offer similar features at different price points. Here we will explore the features of WeVideo and review some of its alternatives. With the right tool anyone can create an engaging video.
Benefits of WeVideo
Easy-to-Use Interface: It offers a user-friendly interface that makes creating, editing, and sharing videos easy. Its drag-and-drop capabilities make adding audio, text, or images simple with just a few clicks. You can also watch the tutorial video they upload on their website, which provides you with helpful tips and tricks for creating amazing videos and understanding the editor effectively.
Professional Quality Output: It ensures that your videos are always of the highest quality, no matter what device you use to create them. The program offers various filters and effects to enhance your video and audio and color adjustments, so you can easily customize it to suit any needs. The videos can be exported to various formats, including 4K ultra-HD and Wyna premium.
Advanced Editing Features: WeVideo offers a range of advanced editing features that make it an ideal choice for those with more experience in video editing. These include multi-track audio mixing, chroma key compositing (for green screen effects), and a royalty-free music and sound effects library. The program also offers motion tracking, 3D transitions, multiple video tracks, and more.
Cloud Storage: It stores all your videos in the cloud so you can access them anywhere from any device. This means if you accidentally delete or lose your video, you can get it back effectively. It makes collaboration easier and allows multiple users to work on the same project from different locations.
Affordable Pricing Plans: It offers several affordable pricing plans for individuals and business users. There is even a free version that allows up to five minutes of edited video.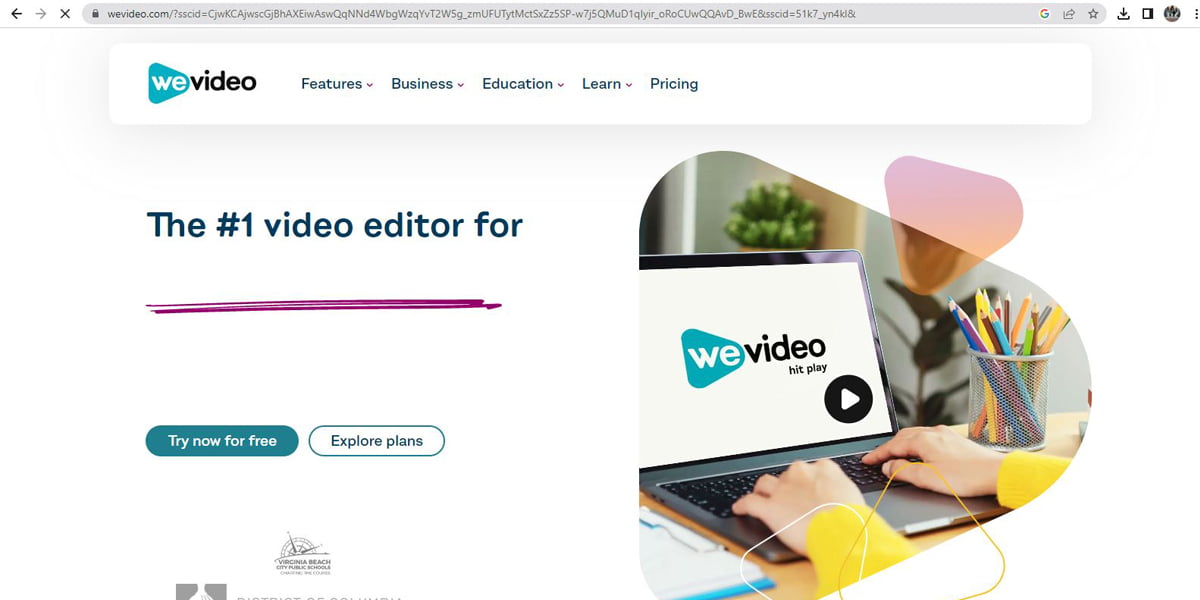 How to Use WeVideo
WeVideo is an online video editor allowing users to create stunning content easily. It has powerful editing tools, including adding transitions and special effects and editing audio and video in real time. It also provides a library of free music and sound effects for users to integrate into their videos. With this, users can share their creations directly to social media or upload them for private online sharing. The platform also offers a wide range of video tutorials to help users create engaging videos and to motivate them to get started quickly. It is a great tool for both beginners and experienced editors alike.
To get started with WeVideo, create an account, and start creating your project. It is possible to upload media from your computer, device, or cloud storage service like Dropbox and Google Drive and access the royalty-free stock audio and video clips library. You can customize your project using its editing tools and special effects from there. You can save your videos in your system or use them whenever to need them.
WeVideo Alternatives
Shotcut
Shotcut is another free online video editor worth considering. It offers a variety of features and tools, such as the ability to trim, rotate, crop, and add effects to videos. With its intuitive and versatile interface, users can easily create videos. Shotcut supports many video file formats, allowing for easy content sharing across multiple devices. WeVideo is a great alternative to consider if you are looking for a free online video editor.
Adobe Premiere Pro is a powerful video editing software used by professional filmmakers and digital media enthusiasts. It offers an intuitive, comprehensive set of tools for creating stunning visuals with accuracy, and its range of features makes it the perfect choice for any level of user. With Adobe Premiere Pro, users can create high-quality videos with advanced color correction, audio mixing, transitions, and other advanced effects. Adobe Premiere Pro integrates with WeVideo for seamless collaboration and sharing of projects across multiple platforms.
iMovie
iMovie is one of the most popular free online video editors available. It makes editing videos easy and accessible for casual users and more experienced content creators. iMovie offers a variety of tools for editing, including adding transitions and titles, adjusting the speed of footage, and adding special effects. Without saving the video in the system. You can use this editor on both Windows and Mac, so it's a great option for creating videos, no matter whether you are a Windows or Mac user. Its simple interface and strong features make it an ideal editor for beginners who want to get started with video editing.
Final Cut Pro
Final Cut Pro is a professional video editing software developed by Apple. It is mostly used by professionals in the film and television industry due to its powerful features and amazing design, allowing them to edit videos accurately. It offers advanced tools such as color grading, audio mixing, 3D titles, motion tracking, 360° video editing and more. Final Cut Pro integrates with other Apple products like iCloud and Motion for seamless collaboration between macOS and iOS devices. Because of its large number of features, it is the best editing tool for large videos. Its extensive library of effects and transitions makes it an ideal solution for easily creating professional videos. It is the most expensive tool, but its huge features make the money worth it.
Promo.com
Promo.com is another great alternative to WeVideo for creating high-quality videos online. The platform offers powerful editing tools, providing users with extensive media control. It offers thousands of templates to choose from and a selection of video effects to customize your creations. Promo.com's royalty-free music library also gives creators access to high-quality audio for use in their projects. The platform also makes it easy to collaborate with team members on projects remotely and even includes an in-built video-sharing feature for easy distribution.
Animoto
Animoto is another popular free online video editor allowing users to create impactful videos easily. Users can select from various templates to customize their videos and add music, text, backgrounds, images, etc. Animoto also offers a library of free stock media and royalty-free content, making it easy to create professional-looking videos for free. Animoto allows users to collaborate with others on projects by sharing links or granting editing privileges over the video project. This makes it an ideal choice for those looking to create videos as part of a team.
In Closing
WeVideo is a great free online video editor allowing users to create and share videos with friends and family easily. With its easy design, it makes editing videos a breeze. It also offers various features for those who want to take their videos up from a large crowd. If you are looking for alternatives to WeVideo, there are many options, depending on your needs. Always remember that the most important part of video editing so chooses the editor that you think is easy to use for you, and you enjoy this while editing.