Apps & Gadgets
File ZIPO – External Cloud Storage Solution for Salesforce
File ZIPO is a cloud storage solution specifically designed for Salesforce users. With this powerful tool, users can securely store their data on an external cloud platform, making it easy to access and share. It also allows for fast and reliable internal storage backup, providing a secure environment for users to store their important files. With File ZIPO, Salesforce users can easily manage their data, collaborate with colleagues, and keep their business running smoothly. This external storage solution is ideal for businesses searching for a reliable and secure way to store and access their data.
Features of ZIPO
Increased Data Security
It provides a secure and reliable solution for your Salesforce cloud storage needs. All data is securely stored in the cloud and is protected from unauthorized access. Its encryption technology ensures that sensitive data remains secure and encrypted in transit and at rest. To secure the data, the system has two-factor authentication, which allows only authorized users to access it.
Enhanced Collaboration
ZIPO enables your sales teams to collaborate and share data more effectively. Through cloud storage, teams can easily access shared documents and files from anywhere with an internet connection. Furthermore, it is possible to add multiple users to a project, which facilitates smooth teamwork and collaboration among team members.
User-Friendly Interface
It offers a user-friendly interface that helps simplify managing and accessing files. The user-friendly interface allows users to easily locate what they need without sifting through excessive data. Moving files between folders is made easy with the drag-and-drop feature, which allows users to do it quickly and effortlessly.
Automated Backups
It provides automated backups to ensure that your files are secure and protected. With 24/7 monitoring, your data is always safe and secure with ZIPO. This means storing large amounts of data without worrying about potential security risks or losing important documents.
Secure Sharing
It offers secure sharing capabilities for users who need to share files with other people. Through this, you can securely share documents and folders through an encrypted link only designated individuals can access. Collaborating with your team is made effortless and secure with this feature. No need to stress potential security threats.
Easy Accessibility
ZIPO makes accessing your files easy and secure. You can access all your data from any device, anytime, anywhere. This makes it convenient for users to access their files on makes collaboration with colleagues easier.
Setting up ZIPO file
Easily store, manage, and share files within Salesforce using this, a cloud-based storage solution.
With this, users can quickly access files from various devices, collaborate on projects in real time and securely store data on the cloud.
Setting up ZIPO with Salesforce is easy. To find it, simply login to your Salesforce account and go to AppExchange. Then, conduct a search for ZIPO.
After locating it, simply click the "Get It Now" button and proceed with the instructions that come up.
After successfully installing with Salesforce, users can start managing their files from within the Salesforce platform.
With this, users can easily organize their files in folders, preview documents, and share them with others through a user-friendly interface.
This tool ensures security and privacy through encryption, role-based access control, and two-factor authentication to safeguard your data.
With this, users can quickly and easily upload files to Salesforce, securely store them in the cloud and access them from any device.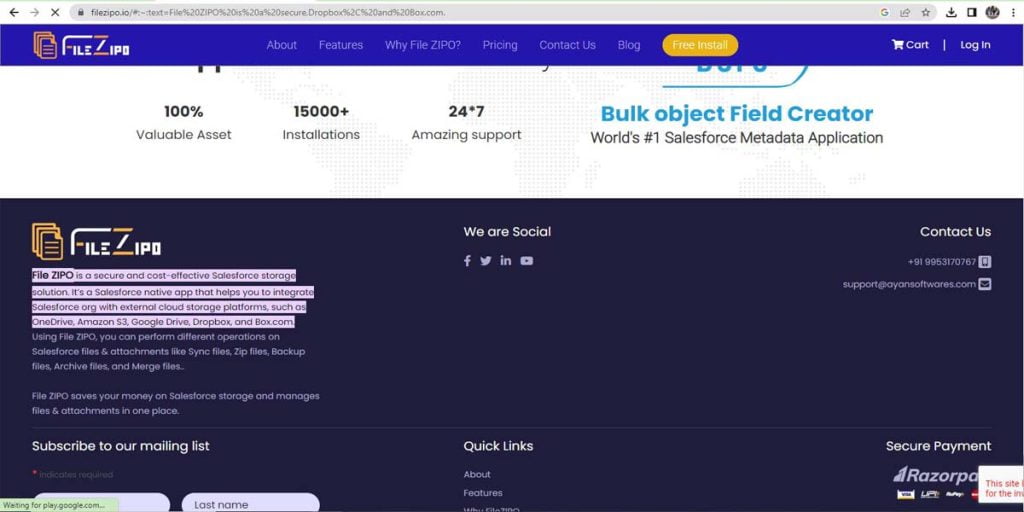 File ZIPO Use Cases
Sales and Marketing teams
Sales and marketing teams need reliable storage solutions to meet their ever-evolving digital needs. It is an external cloud storage solution designed specifically for Salesforce users. Service provides a secure and convenient method for users to store all their important files without the worry of losing any data. With this, the sales and marketing teams can rest assured that their valuable documents and information are always safely backed up and accessible. Its integration with Salesforce also ensures that updates or changes are automatically synchronized across both platforms, making collaboration easy and efficient. Whether in sales, marketing, or customer service, it is the perfect solution for storing and managing your valuable data in the cloud.
Customer Service Teams
Customer service teams can benefit from its external cloud storage solution for Salesforce. The cloud-based platform offers a secure and user-friendly method for storing customer data and documents. This enables teams to efficiently manage and organize records with precision. It enables teams to access customer data from any device or location, giving flexibility and agility for better customer service. The user-friendly interface allows customer service teams to address customers' inquiries and easily access updated information promptly. This provides a customer experience that is always top-notch. It is the perfect solution for any questions or customer service needs.
Project Management and Collaboration
ZIPO is an external cloud storage solution for Salesforce that makes project management and collaboration easier. With a simple drag-and-drop interface, users can easily move, copy, and share files from Salesforce to other external cloud storage. It also features advanced permission settings that allow teams to control access to specific folders and documents. This makes it easy for team members to collaborate on projects while maintaining secure data privacy. With this, sales teams have a powerful tool that helps them stay organized and productive.
Pricing
It offers flexible pricing plans to suit any budget, making it the perfect external cloud storage solution for your Salesforce needs. With options ranging from pay-as-you-go plans to enterprise-level solutions, it ensures that you only pay for the features and storage capacities that make sense for your business. With this, there is no need to worry about overspending or insufficient space–no matter your organization's size. All ZIPO plans offer unlimited data transfers, so you can rest assured your files and documents will always be accessible when needed.
Future Developments and Roadmap
File ZIPO is committed to continuous improvement and staying at the forefront of technological advancements. The development team is dedicated to enhancing the functionality and user experience of the platform. Shortly, it plans to release updates that will further optimize file management within Salesforce, including advanced metadata tagging and intelligent auto-categorization capabilities. The roadmap includes exploring integration possibilities with emerging technologies such as artificial intelligence (AI) and machine learning (ML) to provide intelligent insights and predictive analytics related to file usage and collaboration patterns.
Furthermore, they place great importance on customer feedback and actively incorporates user suggestions and requests into its development cycle. With ongoing support and a customer feedback-driven approach, File ZIPO aims to provide a comprehensive external cloud storage solution that meets the evolving needs of Salesforce users and continues to deliver enhanced value to businesses of all sizes.
Wrapping Up
File ZIPO provides a comprehensive external cloud storage solution for Salesforce users. Its powerful features and excellent customer support make it an ideal choice for companies looking to simplify their file management process while keeping their data secure and organized. Its intuitive interface makes it easy to use, allowing businesses to access their important files quickly and efficiently from any device. For these reasons, it is an excellent choice for any Salesforce user looking to boost their productivity and keep their data secure.